GITPRO World 2012
http://gitpro.org/gitproworld2012
Emerging Technologies and Opportunities

Successfully hosted on Saturday 18th Feb 2012

More than 400 professionals and 28 speakers attended

Legendary entrepreneurship coach Steve Blank delivered keynote.

Persistent System CEO Dr. Anand Deshpande spoke on Opportunities in India Inc.

Executive Coach Dr. Prasad Kaipa educated on Smart to Wise Decision Making.
GITPRO World 2012 conference provided an unique opportunity for professionals and entreprenuers to understand the wave of emerging technologies and opportunities in 2012. This conference had programs for all kind of professionals:for technical professionals, for career management & leadership minded professionals and for aspiring entrepreneurs. This conferenceprovided them opportunity to meet industry leaders, executives, and fellow professionals from various leading companies and startups.
At GITPRO World 201, following initiatives were launched:
Competition on "My Innovation For Indians" : Technology Driven, Problem Solving, Feasible and Viable Plan
Suevey of Indian Tech Professionals in USA
Mentor A Engg College for Improving Quality of New Engineering Gradugates from India
Brief Report:

A legendary entrepreneurship coach teaching at Stanford and Berkley Universities, Steve Blank emphasized that entrepreneurs should avoid failures by getting out of offices to talk to customers for validating hypothesis and pivoting on idea or customer market as often and as early as possible. The Contra Costa chapter coordinator Sandeep Bhatnagar felicitated Steve Blank.
While speaking as a keynote speaker, Dr. Anand Deshpande, CEO of Persistent Systems, said that India Inc. has evolved from offshore hub to a global player with global outlook. He emphasized a huge opportunity for innovation and for startups in India for next five years mainly in the market of education, healthcare, biosciences, retail and mobile.
During the conference, Khanderao Kand, GITPRO Founder and Convener of GITPRO World 2012 announced three new initiatives. GITPRO launched a competition for "My Innovation For Indians (MIFI)" for viable, sustainable, technology with a business plan to make difference in India and for Indians. It also launched a first-ever survey for professional life, family life and community involvement of Indian Professionals in USA. GITPRO also decided to pilot a project to improve a quality of new engineering graduates from third tier colleges in India.
More than 400 Indian technology professionals from startups to fortune 500 companies like Cisco, IBM, Oracle, eBay, HP and Apple spent their entire Saturday attending sessions in three categories, Technologies, Career & leadership and Entrepreneurship. Experts and founders of startups in Big Data and Hadoop like Cloudera, Greenplum Labs, HortonWorks, IBM, and Microsoft discussed opportunities related to Big Data. Executives from VMWare, CloudBees, Oracle, and SalesForce discussed Cloud development. Professionals attending career & leadership sessions learned about how to plot their career path, manage with influence, and mid-career accelerators. The attendees of Startup track got to know important topics related to start to successful exit in startups like starting legal entity, intellectual property issues, raising investment, and capturing market.
As a part of GITPRO's social responsibility, Nitin Shroff, Silicon valley coordinator announced Sewa International as the charity of the year and donated part of conference proceedings to Sewa International.
With anecdotes from Mahabharata in modern business context, Dr. Prasad Kaipa emphasized on smart to wise decisions with enlightened self-interests with noble purpose.
13 CEOs and 16 founders among 110 attendees of Startup Bootcamp
Big Data Panel was Big Success: Dr. Milind Bhandarkar, Amr Awadallah, Anjul Bhambri and Sanjay Radia
Cloud Panel was graced with Jerry Chen (VMWare), Amir Zavery(Oracle), Steven Harris (CloudBees) and Amlan Debnath
Career Coach Dilip Saraf and Entrepreneur Mentor Rajesh Setty on Career Track
Apigee CEO Chet Karpoor, DocVerse ex-CEO Shan Sinha, and VC Ajit Deora shared in Startup Bootcamp
Speakers: Dennis O'Malley, Joze Lazares, Praveen Varadrajan, Khanderao, Carole Bellis, Sujit Kotwal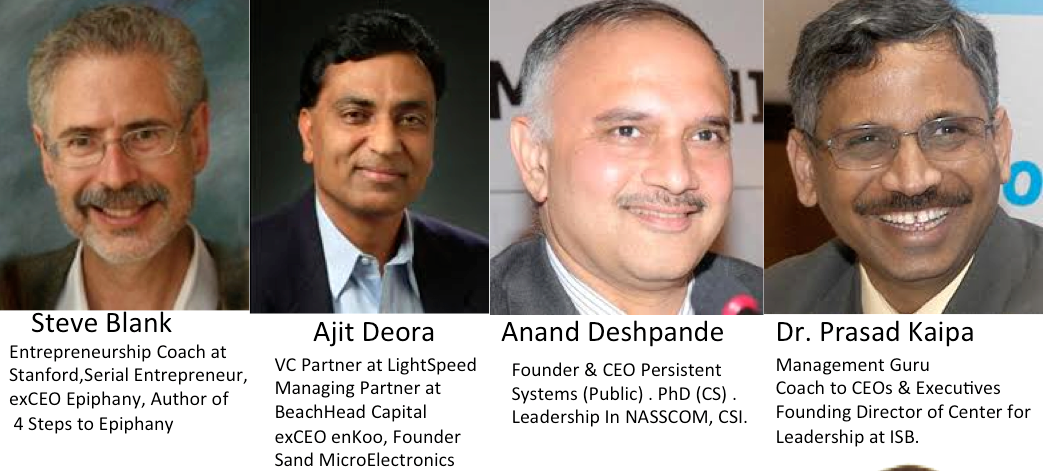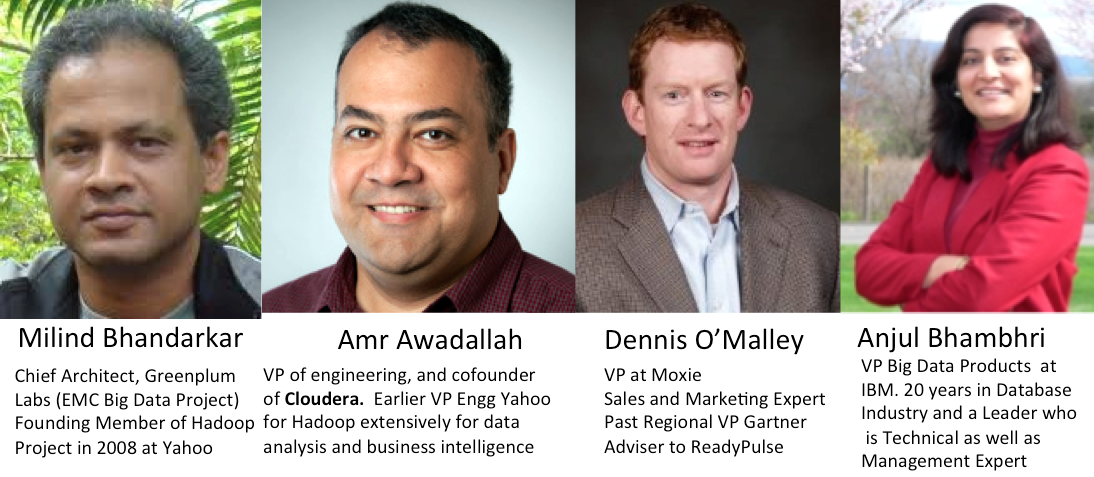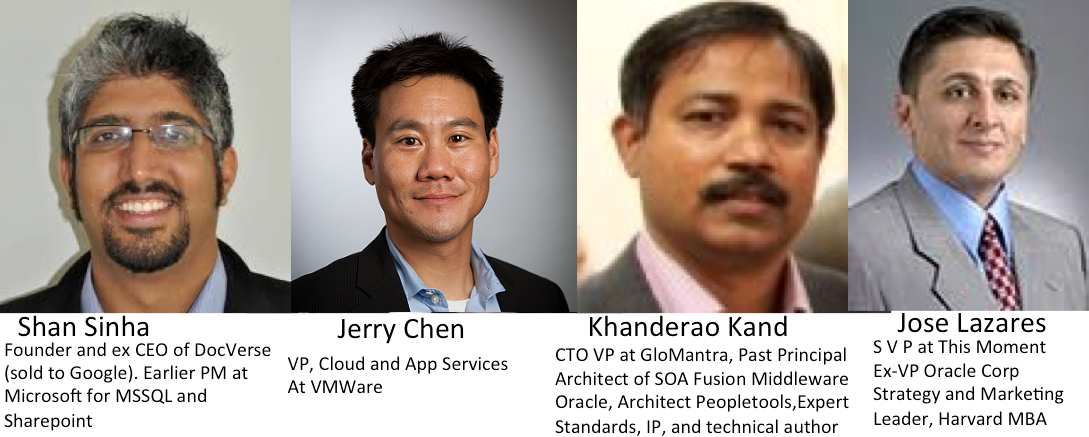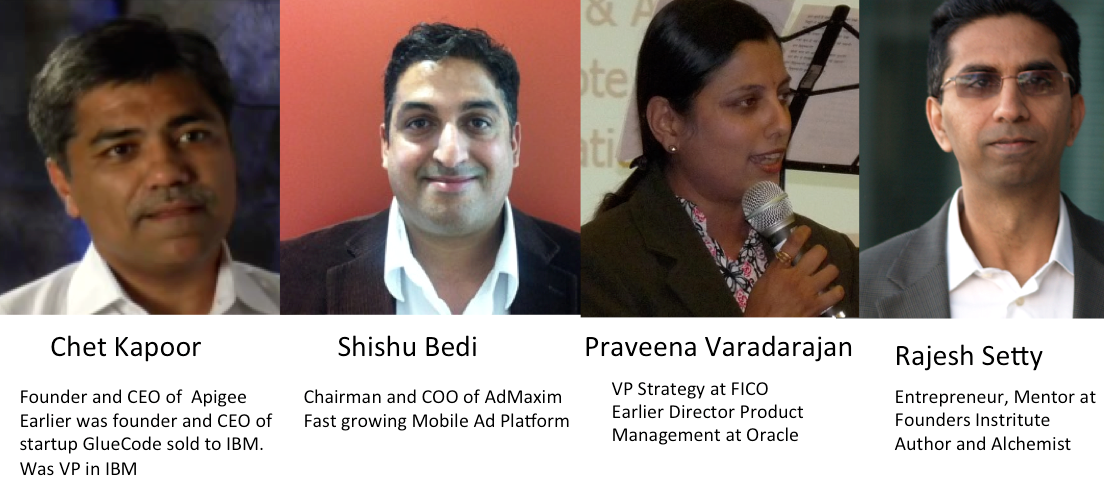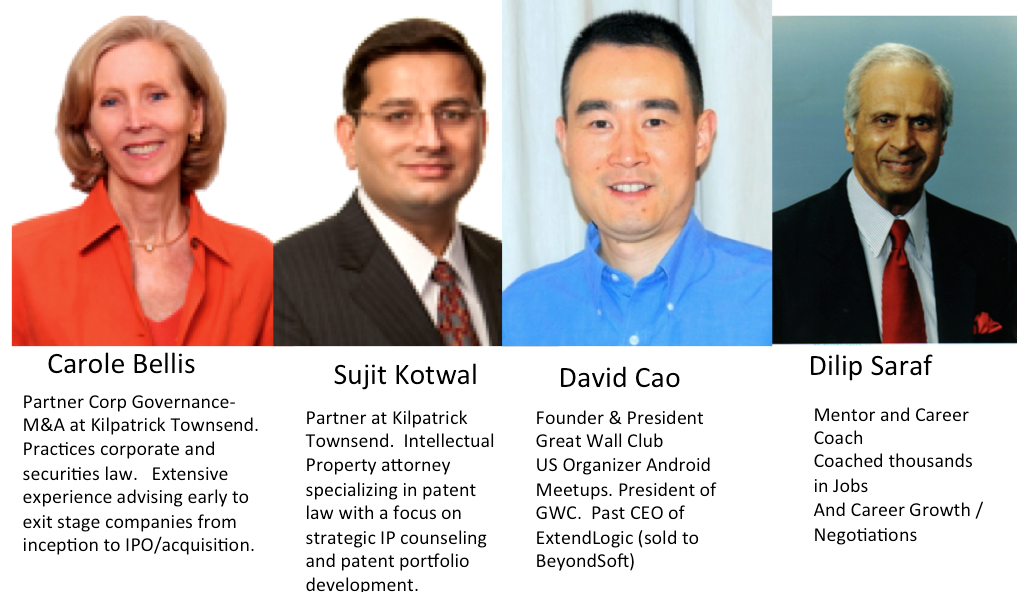 Venue: Jewish Conference Center, 3921 Fabian Way, Palo Alto, CA.

Program:
Time Slot
Tech Track
Career Track
Startup Track
9:00-10:15
9:00-9:15 Inauguration:

Developing & & Getting Traction: David Cao ( Founder & President Great Wall Club US ) Monetizing Mobile Apps: Shisu Bedi COO AdMaxim
9:00-9:15 Inauguration:

Leadership Career Pathing: Individual to Manager to Executive:Dilip Saraf (Career Coach) and Anjul Bhambhri (VP, IBM)
9:00-9:30 Inauguration:

Startup Lesson Learnt: Chet Kapoor CEO of Apigee (Sold GlueCode to IBM)
10:30-12:00
Big Data with Hadoop, NoSQL: Panel: Milind Bhandarkar (Chief Architect, Greenplum Labs), Anjul Bhambhri(VP Big Data IBM), Amr Awadallah(CTO & CoFouder of Cloudera), Sanjay Radia(CoFounder HortonWorks), Saptak Sen(Director-Microsoft), Abhishek Mehta(Founder of Tresata)
Mid-Career Accelerators / Switch through MBA,PMP: Panel of Career Coach, PMP Coach and MBA: Dr. Swapn Sinha, Professor of Strategy, Project Management, and Green Business at NPU. Rama Malladi(MBA-CFA, Partner of Kubera Analytics)
Raising Investments & VCs Perspective: Ajit Deora (Partner, LightSpeed Ventures) & Pitching Your Startup: Shan Sinha exCEO of DocVerse sold to Google
12:00-12:55
Lunch
1:00-2:00
Keynote by Steve Blank , Entrepreneurship Coach at Stanford & Serial Entrepreneur
2:15-3:15
Business Case for Social CRM and Social Commerce (Jose Lazares, SVP Marketing). Programing with Social Media (Khanderao Kand CTO GloMantra & Founder GITPRO)
Managing With Influence: Panel: Praveena Varadrajan (VP FICO) & Rajesh Setty (Mentor and Coach)
Startup Essentials from Legal, Cap Structure & IP: Carole Belis(Partner Corp Governance-M&A, Kilpatrick Townsend), & Sujit Kotwal(Partner - Intellectual Property- Kilpatrick Townsend)
3:30-4:45
Developing with Cloud (PaaS, SaaS and IAAS): Jerry Chen(VP SpringSource, VMWare), Steven Harris (VP, Cloudbees), Anshu Sharma (VP Force.com SalesForce) Amlan Debnath (SVP)& Amit Zavery (VP at Oracle)
Job Market in 2012, Preparations and Negotiations: Panel: Sanjiv Goyal- CEO Droisys and Dilip Saraf (Career Coach)
Marketing and Selling at Low Budget: Dennis O'Malley (VP Moxie, Sales & Marketing Executive). Advisor to ReadyPulse (Social Analytics) Ex-RVP at Gartner.
5:00-6:00
Keynote: Opportunities in 2012: Anand Deshpande CEO Persistent Systems

Keynote: Where Do You Want to Go Next: Dr. Prasad Kaipa, Executive Coach & Founding Director of Center for Creative Leadership at ISB
Contact for Information : gitproworld2012@gitpro.org

Sponsors


Grand Sponsor : Mantri Developers http://mantri.in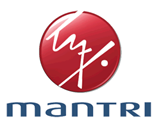 Startup Track Sponsor: Kilpatrick Townsend & Stockton LLP